Blue-collar painter Josh Byers finds work-art balance in his life – BG Independent News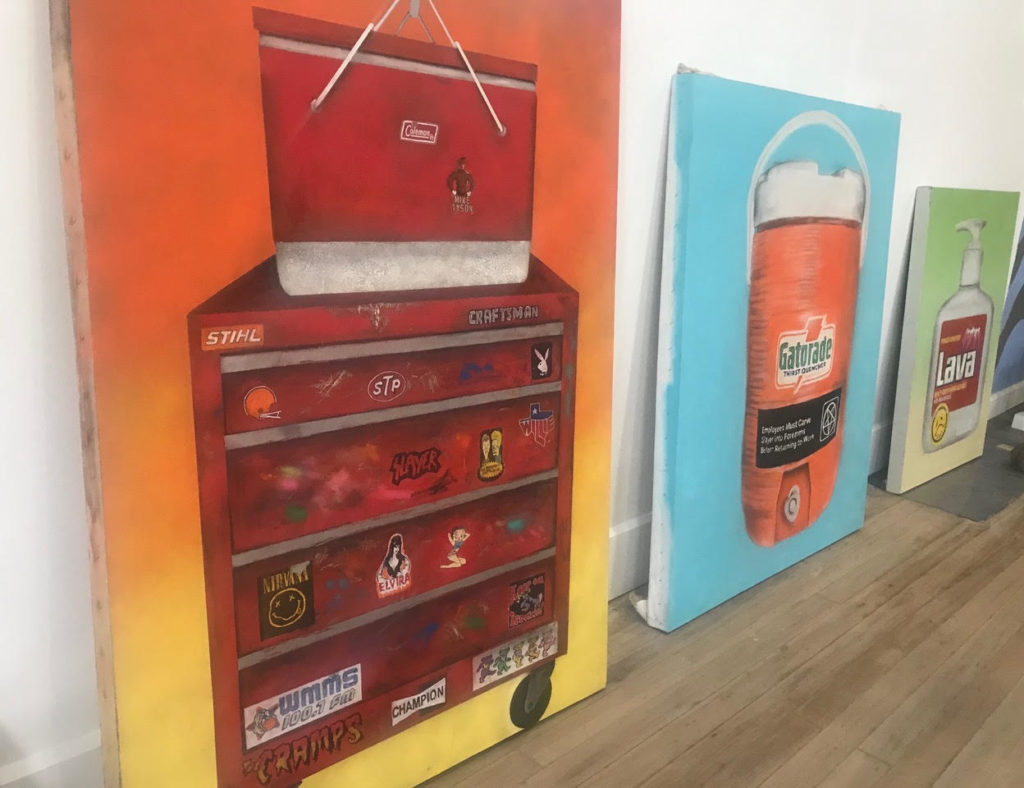 By David Dupont
BG Independent News
Josh Byers started masonry with his father when he was a child.
He used to draw.
He still does both – working in construction during the day and creating art at night and on the weekends.
It is not a day and night division of labour. Her professional life flows through her artistic work, which is influenced by her love of pop culture and music.
"All Rip, No Drip," an exhibition of photorealistic paintings by Byers, also known as 60wattfunnel, opens Saturday, May 14 with a reception from 5 p.m. to 9 p.m. at Gallery 131, 131 West Wooster St., Grounds of balls.
One painting features a full arc welder with wires hanging from the front and, in a characteristic touch, Byers has included the AC/DC group logo.
A cooler – Byers says he likes old metal coolers – sits on top of a toolbox. The chest is decorated with stickers of Slayer, Elvira, Beavis & Butthead and others. The cooler only has one sticker – Mike Tyson.
When asked if he would do art full time if he could, he replied, "I don't know if I'm so obsessed. I think I would go crazy.
Having "two full-time jobs…just keeps me sane."
Byers grew up in Akron and came to Bowling Green State University in 2000 to study art. He worked with John Balistreri and Shawn Morin and created large ceramic and steel sculptures. He earned his Bachelor of Fine Arts in 3D art and then turned to graduate school. He decided that was not the road he wanted to take.
He returned to the construction work he had done with his father. There is the question of money and debt. Construction work gives me "that outlet and that subject."
Byers switched to painting because "I just realized I can paint wherever I am".
Making ceramics and steel constructions requires more space and equipment.
Byers converted the garage of the house he and his wife bought in the Old West End of Toledo into a studio to give him more space.
His sculptures, he says, were "roughly drawings in space" and the subjects of his paintings are sculptural. "It's kind of a ying-yang thing," Byers said.
Even when he was making ceramics and steel, "I couldn't wait to get it made so I could paint it," he says. "I just wanted to make my mark. I take something empty and turn it into something.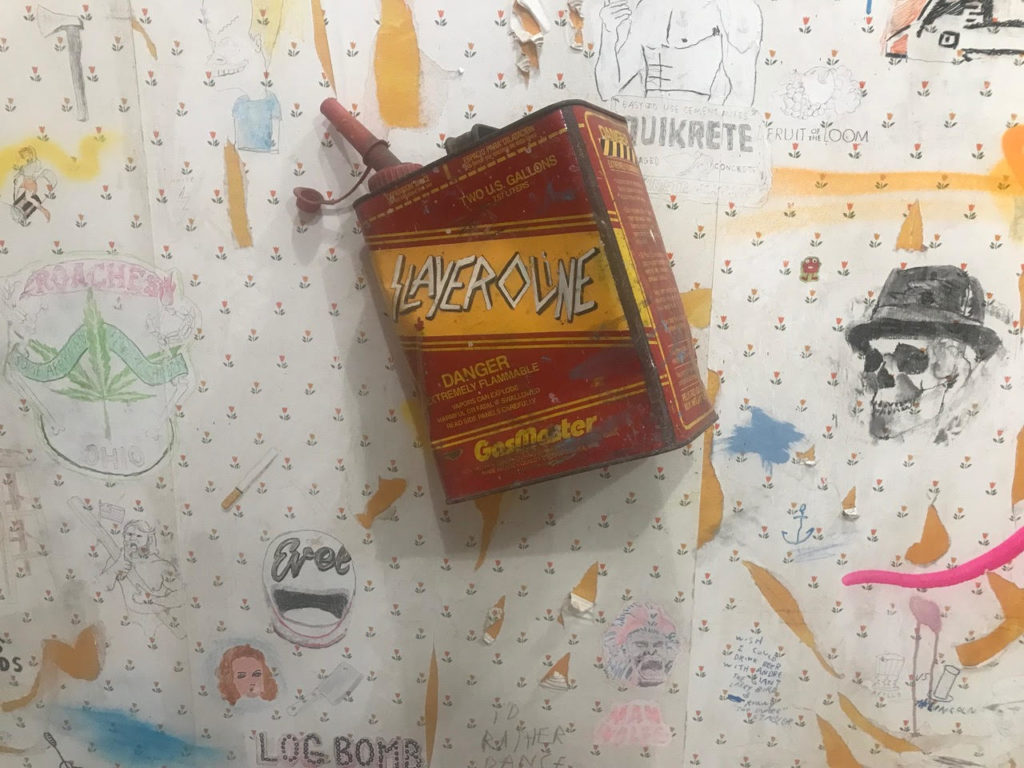 It relates to the functional nature of objects. When he paints a cooler, he can feel what it's like to reach in and grab a cold beer.
One painting is of a container of heavy Lava soap. "I've used it a lot since I was a kid," he said.
The image is also a comment on pandemic protocols which called for "washing your hands hundreds of times, so I added this 'oh shit' sticker," he said, as a humorous comment. It's about "not taking yourself too seriously," he said, as well as "trying to make a beautiful composition that's strong, and I think it tells a story."
He still does a few 3D jobs – steel power plugs or old work shoes encased in concrete.
He also paints canvases to look like wood or drywall, then paints on Post-its. A note is a list of items to pick up. It starts with Portland cement and ends with "a flower for her hair".
"It's still a blue-collar mentality," he said. Nostalgia creeps in. He will paint a treasured object he had when he was young "something I wish I had now, but it's vintage so I can't afford it".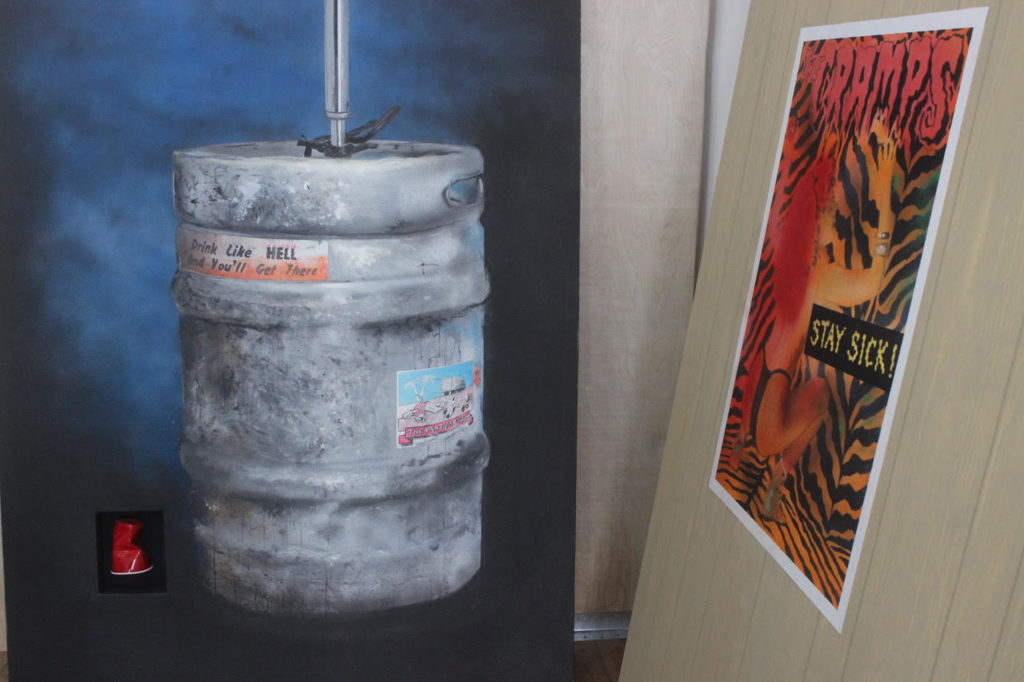 It has music playing in the background while it paints. It could be Nirvana or George Jones. "I listen to everything."
"Anything, black – Black Sabbath, the Black Keyes, the Black Angels." He is particularly fond of Willie Nelson and outlaw country.
Either way, he says, it will find its way into his work.
He has worked with a few galleries, but now organizes his own exhibitions. He works in the Original Sub Shop on Broadway. The owner "lets me hang a bunch of work there to get it out of my hair."
Exhibitions are a way to help him stay in touch with his artist friends and former teachers. What he sells allows him "to make more paintings".
"It's not my main source of income," Byers said. "I just try to pay my bills and have a good time and try to smile everyday if I can."