Hafco Metalmaster EB-330FAS band saw reduces blade wear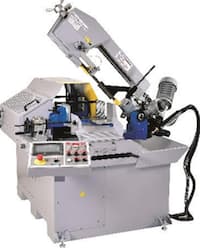 For fully automatic hitch feed, single miter bandsaw; a great option is Hafco's Metalmaster EB-330FAS, designed for repetitive cutting of small to medium sections – single or bundle.
The EB-330FAS NC Swivel Head Metal Bandsaw features automatic hitch feed with a 178mm (7 inch) touch screen controller, storing 20 programs. It features an infinitely variable inverter-controlled blade speed from 25 wpm to 85 wpm.
In automatic cycle, the saw cuts from 0 degrees to 45 degrees to the right. In semi-automatic cycling, it is 0 degrees to 60 degrees right. The saw is also equipped with hydraulic vice clamping with manual handwheel adjustment.
The saw is capable of cutting infinite lengths, supported by a 500mm stroke hitch feed vise with ball screws and servo motor. Blade life is maximized with friction-reducing ball-bearing blade guides that ensure minimal blade wear.
The saw frame can lower quickly towards the material, automatically detecting the starting point of the cut, thanks to a mechanical position sensor.
A bi-metal blade feature retracts the vise after the cut, preventing the blade from rubbing on the return, reducing blade wear.
Additional features include a quick action lock/unlock lever for the pivoting head, heavy duty gear drive system and blade cleaning brush.
The Metalmaster EB-330FAS Bandsaw is vibration-free, quiet, and ideal for clean, high-precision cuts.