(CNN) – The destruction was instantaneous as many homes and businesses were tossed into the air over the weekend tornado outbreak in eight states – but those who survived, many of whom have nothing but the clothes on their backs, now face a daunting road to recovery.
About 75% of Dawson Springs was wiped out by the tornado, Mayor Chris Smiley said.
"Right now our spirits are shattered, but we will be back," said Hopkins County Coroner Dennis Mayfield, who reported a death toll of 13 in Dawson Springs alone.
About a third of the city's 2,500 residents live below the poverty line and many have no insurance.
Those whose homes are still standing likely won't have power for a month, said Nick Bailey, county emergency management director.
Overall, at least 88 people were killed in the severe storms that rolled through the Midwest and South regions Friday night through Saturday, including at least 74 in Kentucky, according to Gov. Andy Beshear. An estimated 50 tornado reports were made in eight states.
"When this tornado hit, it didn't just take a roof off, which we've seen in the past," Beshear said. "It blew up the whole house. People, animals, the rest, it's gone."
Of the 74 killed in Kentucky, 12 were children, beshear said. More than 100 people were still missing as of Tuesday morning, he said.
Beshear said 568 National Guardsmen are assisting with post-tornado efforts in the state.
The Red Cross opened shelters for those who lost their homes, and several state parks were opened to help house families.
the Western Kentucky Tornado Team Relief Fund fundraising to help recovery. As of Tuesday, more than $9.89 million had been donated, Beshear said.
The damage was not limited to life and buildings. Several large transmission towers have been destroyed and will take weeks if not months to replace, Kentucky Emergency Management Director Michael Dossett told CNN's Wolf Blitzer.
The destruction was blind. The long-term impact is difficult to measure.
"For some people, I don't know if they will fully recover, certainly not emotionally or psychologically," Senator Whitney Westerfield said. "Houses and buildings can be rebuilt in time, but that's the kind of thing that lasts a long time with the community and with the family," he told CNN on Monday.
8 dead at Kentucky candle factory, officials say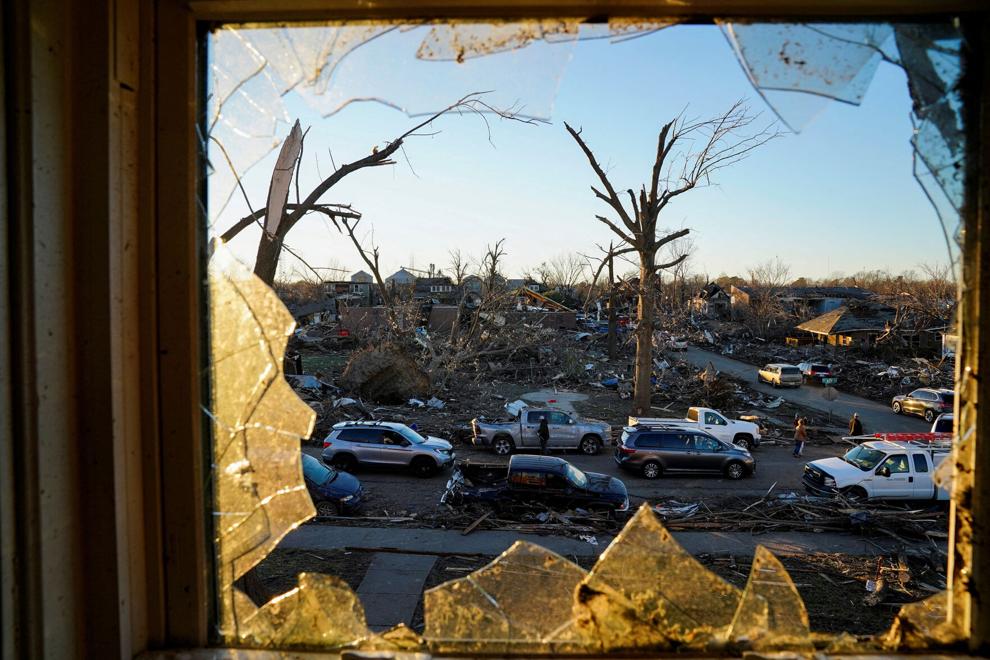 Eight of those killed in Mayfield – about 70 miles southwest of Dawson Springs – worked at the Mayfield Consumer Products Candle Factory, according to Indianapolis Fire Division Chief Tom Neal, who leads a search and rescue team deployed to the facility.
The factory "was operating 24/7" in part to meet demand for Christmas candles, U.S. Representative James Comer, who represents the region, told CNN.
A tornado leveled the building on Friday night, trapping many workers under several feet of debris, but authorities are now confident no one is left in the rubble.
Factory worker Jim Douglas was in so much pain as he lay crushed under what he believed to be 15 feet of debris that he was "praying for God to take me". Then the rescuers joined him.
"They are heroes. And not because they saved me, it's because they saved a lot of people," Douglas told CNN from his hospital bed.
Douglas recovers from nerve damage and slowly regains the use of his arms and legs. The worker described how an interior wall fell on him, hitting him in the head and knocking him to the ground.
"It was so quick. It felt like different layers were coming down and I could feel my body would like to be more compact," he said. "I was definitely crushed."
Residents of Mayfield rushed to the factory as news of the destruction spread there, including Navy veteran Adam Slack. First, he helped people clear debris from roads so paramedics and firefighters could better access the site, he said.
Eventually, Slack helped a survivor from the site.
"Poor woman, she wouldn't let go of my hand. I asked her several times if she was physically okay. She said, 'Yeah…I just want my dad,'" Slack told the CNN's "New Day" show on Tuesday. .
"I got her back to my vehicle, gave her shelter, blankets, kept her warm…She kept telling me to go back and help someone else I said, 'Well, I want to make sure you're okay first,'" Slack recalled.
Slack lent her a cell phone and she called her father, who came to pick her up, Slack said.
The factory site was "awful", he said.
"If I talk about this a little too long, it'll bring tears to your eyes… The wind was still going. Power lines, there were a few gas leaks. People everywhere. It looked like a mound of ants when everyone is trying to help, trying to get people in and out safely," Slack said.
About 130 miles east of Mayfield in Bowling Green, Kentucky, officials said they investigated 136 missing-person reports following the tornadoes and as of Monday 13 people were still missing, according to the chief. of police Michael Delaney. The death toll in Warren County, where Bowling Green is located, is 15, according to the coroner's office.
Six dead in Amazon warehouse in Illinois
In Illinois, at least six people died when a Amazon warehouse collapsed in Edwardsville after being hit by a tornado, Fire Chief James Whiteford said.
These six victims were between the ages of 26 and 62, the Edwardsville Police Department said.
Forty-five people exited the building, one of whom was airlifted to a regional hospital for treatment, Edwardsville Fire Chief James Whiteford said Saturday night.
Amazon Worldwide Consumer CEO Dave Clark said company staff were saddened by the loss of life at the facility and beyond.
"Our thoughts and prayers are with the victims, their loved ones, and all those affected by the storm's path across the United States. We continue to provide support to our employees and partners in the region and across We would also like to thank all first responders for their continued efforts at the scene," Clark said in a tweet.
The Occupational Safety and Health Administration is investigating the collapse, a spokesperson told CNN.
"OSHA has had compliance officers at the complex since Saturday, Dec. 11 to provide assistance," U.S. Department of Labor spokesman Scott Allen said in an email Monday.
OSHA, which investigates all workplace fatalities and disasters, "has six months to complete its investigation, issue citations and offer monetary penalties if violations of workplace safety and/or health regulations work are noted," added Allen.
Amazon supports OSHA's efforts, an Amazon spokesperson said in an email Monday.
Destruction in Arkansas
In Arkansas, the storm hit a Dollar General store in Leachville and killed assistant manager June Pennington, Mississippi County spokesman Tom Henry said.
In nearby Monette, at least one person was killed in a tornado-damaged retirement home, Mayor Bob Blankenship said.
Governor Asa Hutchinson said it was a 'miracle' only one person died at the nursing home.
"When I walked into this facility, it was like the sky had sucked in the roof and all of its contents," he said.
"And it's just a miracle with 67 residents that we only lost one. And that's thanks to the heroic efforts of the staff and also the fact that we had a 20 minute warning."