Louis Vuitton SS23 at PFW Saw Kendrick Tribute Virgil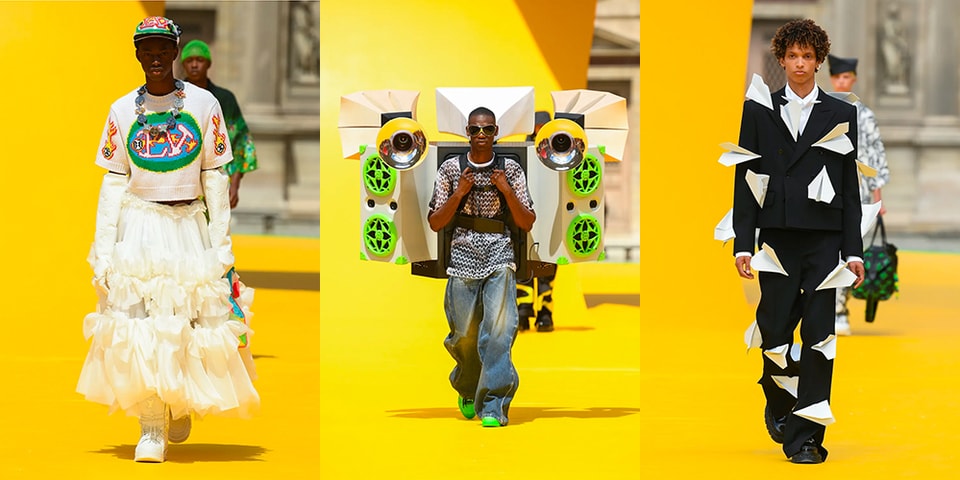 When Virgil Abloh died in November 2021, a question was on everyone's lips: what will happen to Louis Vuitton? Fall/Winter 2022 brought the late designer's dreams to life in a performance-driven show, and now it's Spring/Summer 2023's turn to give us the answer we've all been hoping for. Launched earlier today, Louis Vuitton rode to Paris Fashion Week with grandeur and impact, kicking off the show with a cinematic prelude – something Abloh presented at home – titled " StrangeMath". He explored the relationship between imagination and reality and saw Florida A&M University in Tallahassee, Florida, aka FAMU or the Marching 100, perform an all-black marching band in a pre-filmed alternate reality depiction of Paris. which, with the push of a button on a spaceship, transported them to the lavish setting of the Louvre's Cour Carrée live performance.
Laid out like a bright yellow Hot Wheels track with a loop, or as the brand says "a yellow brick road for the imagination" (first show SS19, anyone?) Louis Vuitton SS23 was about to begin. But not before the Marching 100 performed a five-minute routine dressed in FAMU uniforms and custom Louis Vuitton gear. It was then that the clothes began to wash over the title, backed by an orchestral opening that quickly became Kendrick Lamar's lyrical playground.
Chanting "Virgil", Kendrick quickly turned the track into a live performance which, throughout the show, littered Abloh's name alongside Kendrick's own tracks such as "N95". It was a powerful tribute to the late designer, whose work was translated by the Louis Vuitton Menswear Design team for SS23.
A soft lilac suit opened the show, with its dart collars, wide shoulders and thin sleeves, exaggerated lapels and floral buttons paired with matching trousers, a clean white shirt and a chrome, mirrored and polished briefcase bag. white with 3D LV logo, all coming together for a look that is the epitome of Abloh's LV mandate. This was echoed throughout the show as various pieces continued the designer's legacy in a multitude of forms.
The brushed mohair coat immediately stood out, a strikingly simple white overcoat that was delicately adorned with purple flowers – ones not too dissimilar to the species that sprouted in Off-White™ stores after his death. That's when Kendrick Lamar became the center of attention, dressed in some of Abloh's finest Louis Vuitton clothes to perform a freestyle song live on the mic, sitting alongside Naomi Campbell as he was doing.
Motocross cues, once again introduced by the designer, were brought forward through a black and green moto jacket paired with matching shorts and green tactical boots, while blazers in white saw cutouts on the sides and accessories in the form of a croc leather collar. Bags. The bold saturated hues Abloh was known for appeared on bright purple denim ensembles, beanies that blurred the line between whimsical childhood nostalgia and the house's frequent use of characters in his work, while paper airplanes perched atop a two-piece tuxedo like butterflies, once again nodding to the house cues that Abloh has introduced in previous seasons through invites and collections. The tuxedo itself also drew inspiration from recent trends, including Bianca Saunders who also opted for concealed buttons and pinched, asymmetrical, offset lapels.
A consistent array of varsity wear appeared throughout the SS23 collection, including a bright orange leather jacket sporting playful puzzle shapes throughout. Other jacket-centric looks were complete with models sporting Louis Vuitton audio systems strapped to their backs or protruding from their shoulders and across their chests, nodding to Abloh's love of music and architectural design.
Pleated skirts in heather gray tones were reminiscent of Abloh's earlier works, as were the three-dimensional pockets that rested on a green and purple field jacket, enhanced by the pocket size and texture. Rounding out the show was an all-look giveaway, with a handful of models sporting a rainbow flag. Although unconfirmed, this could very well be the final tribute to Abloh as he launched his first collection for Louis Vuitton in 2019 with a rainbow runway show.
Louis Vuitton SS23 was a "magnified playground", which explored many of the now-iconic house tropes and virgils, as well as new interpretations of past models. Such references were key to the understanding and development of the collection, seeing it unfold on a track that began and ended with a fanfare – much like the funeral of a national hero. But despite all that, it wasn't just about what Louis Vuitton had lost. It was also about what the Menswear Design team had acquired and could pass on in the future, under the watchful eye of the man who kept Louis Vuitton running.
In other news, Givenchy has gone technical and literal for SS23.