Old Rolling Stones t-shirt still gives him satisfaction – Hamilton County Reporter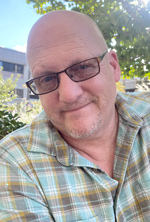 By SCOTT SAALMAN
Scaramouche
That's right, I'm a gig T-shirt fraudster.
The shirt I'm referring to says the following: The Rolling Stones | 1972 | American tour.
The famous red tongue and lip logo of the British rock and roll band appears on the front.
The faded T-shirt is probably 25 years old. I wear it a lot. I love the world knowing that I love the Rolling Stones.
If there's anything bad about me, it's that I'm a fan of the original rock radicals, long known for their long hair, subversive stories, anarchist antics, and evil rhythms, even though I'm poles apart from Mick and the boys – for starters, I was bald at 24 (the root cause of all my later anger issues).
The most rebellious thing I have done lately is to use the complementary address labels that were sent to me by a charity despite not giving any cash back donation no matter Marlo Thomas pleading, in part, "We hope you think of our precious girls and boys when you use them." God bless your good heart.
A few years ago, a stranger, impressed with my T-shirt, approached me and said, "Oh, wow. I saw this tour. Were you there, man?
"My god, woman," I thought, "how old do you think I am? "
The wrinkles on his face testified to the credibility of his request. She was clearly old enough to have seen the Stones in 1972. She was the real deal of the Rolling Stones.
I wear t-shirts with the names of my favorite bands to attract like-minded people to create some impromptu rock and roll camaraderie. Yet how dare she take me for someone old enough to have seen the Stones in 1972.
I was 8 in 72. Actually the 7. The Stones tour was in the summer. My 8th birthday was only in November. To put that in perspective, Mick Jagger and Keith Richards were at the door of 30, and Charlie Watts, at 31, was ready to greet them at the door.
I doubt that many 7 year olds attended a Stones concert back then, especially so close after the infamous and infernal Altamont Festival, in which a Hells Angel stabbed someone to death under Mick Jagger's nose while the band played "Under My Thumb".
It was not totally implausible for me to have seen the Stones in 1972. The tour included a stop in Indianapolis, about four hours from my hometown. My parents should have chaperoned. Never before has our brown Ford LTD been taken on such a long and arduous family journey. Indianapolis might as well have been the moon.
The mere thought of voluntarily visiting our state capital (Gotham, for my old man) would have troubled daddy's intestines, along with concerns about traffic and crime in big cities. . . rape, murder, it's just a gunshot . . . It didn't help to know that my great-uncle was gunned down, mob-style, in the washroom of a gas station in Indianapolis.
I'm not even sure we know the Rolling Stones. We were "Hee haw"People, Not People" Honky Tonk Women. "Kornfield Kounty was our home's unwavering pop culture port of call (those dancing cartoon pigs were a real ripsnorter).
I heard about the Stones later through my Uncle Dave's record collection – in particular, his Hot rocks 1964-1971 LP. Dave was an angry long haired teenage boy related to Mick Jagger. If you squinted properly, he looked like Mick physically. Dave eventually mellowed but died far too young. I would give anything to listen to "Get Off My Cloud" with him now.
Back to the woman who made my 1972 Tour T-shirt shine. "Were you there, man?" His question surprised me.
My motivation for wearing the shirt was to make people just THINK I saw the Stones in 1972, not WONDER if I REALLY saw them back then. The shirt was meant to be a subliminal cool badge. Surely I wasn't the only one living vicariously through a T-shirt.
My first instinct was to lie, to save face, to say yes. Instead, I said cryptically, "If by 'there' you mean JCPenney where I bought this shirt for $ 10, then yeah, yeah, I was 'there.' "
"Bummer, man," she said. Eyes distant, she disappeared.
It was the first time someone called me. I felt like a poseur, ashamed of the imposture I had perpetuated. I deserved a quick kick in the "ass" of Keith Richards.
Last September, I attended my first Stones show. I was 56 years old. To put it in perspective, Mick and Keith were at the door of 80, and Charlie Watts had just started his nap. I considered buying an authentic Tour 2021 T-shirt at the merchandise table to replace my fake 1972, but it cost well over $ 10.
I still wear my old, inexpensive Stones shirt. Only now if someone asks me if I was' there 'I can answer,' No, but I saw them in 2021. Mick still has the movements, and Keith, well, at least his fingers are still moving. . And Charlie, well, it stays in the mind.
Finally, seeing the Rolling Stones half a century after what was arguably the band's 'first' might not impress purists, but for me they turned out to be still the greatest rock and roll band ever. to the world – and that's what gives me satisfaction.
(Editor's note: In the end, the guilt-ridden Scott donated to St. Jude. In a nutshell, that's how bad he really is.)
Scott Saalman also writes for the Dubois County Herald and the Evansville Courier & Press. He is now a proud resident of Fishers. You can reach him at [email protected].