Top cop in trouble for holding Bandi Sanjay by the collar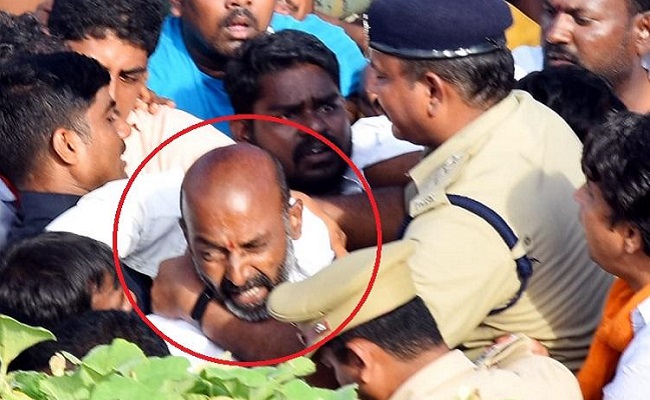 Karimnagar Police are in trouble following the arrest of Telangana BJP Chairman and MP for Karimnagar Bandi Sanjay on the night of January 2 for organizing Jagaran in protest against the indiscriminate transfers of teachers and staff.
Sanjay filed a complaint with the Speaker of the Lok Sabha alleging breach of privilege of a member of parliament by the police during his arrest.
The complaint was forwarded to the Privileges Committee of Parliament, before which the MP filed and gave full details, demanding action against the police.
He alleged that Karimnagar Police Commissioner Satyanarayana held him by the collar and dragged him from his office in Karimnagar at night. The police broke into his office, opened the office gates with gas cutters and a claw door to enter the premises.
Sanjay alleged that this was the second time that Karimnagar police abused him.
He told the privileges committee that even the high court had blamed the police for misbehaving with him. He presented video clips and photos to the committee.
He demanded prosecution of Commissioner Satyanarayana, Deputy Commissioner of Police Huzurabad Kotla Venkat Reddy and others for breach of public officer privilege.
Sources said the central government took serious note of the incident.
"It is quite possible that the Center will bring Satyanarayana to Delhi or post him to another state setting like Chhattisgarh or Bihar, if the privileges committee recommends action against him," the sources said.
New app alert: all OTT apps and release dates under one app