What we saw, what we felt: Mavs-Suns, Game 7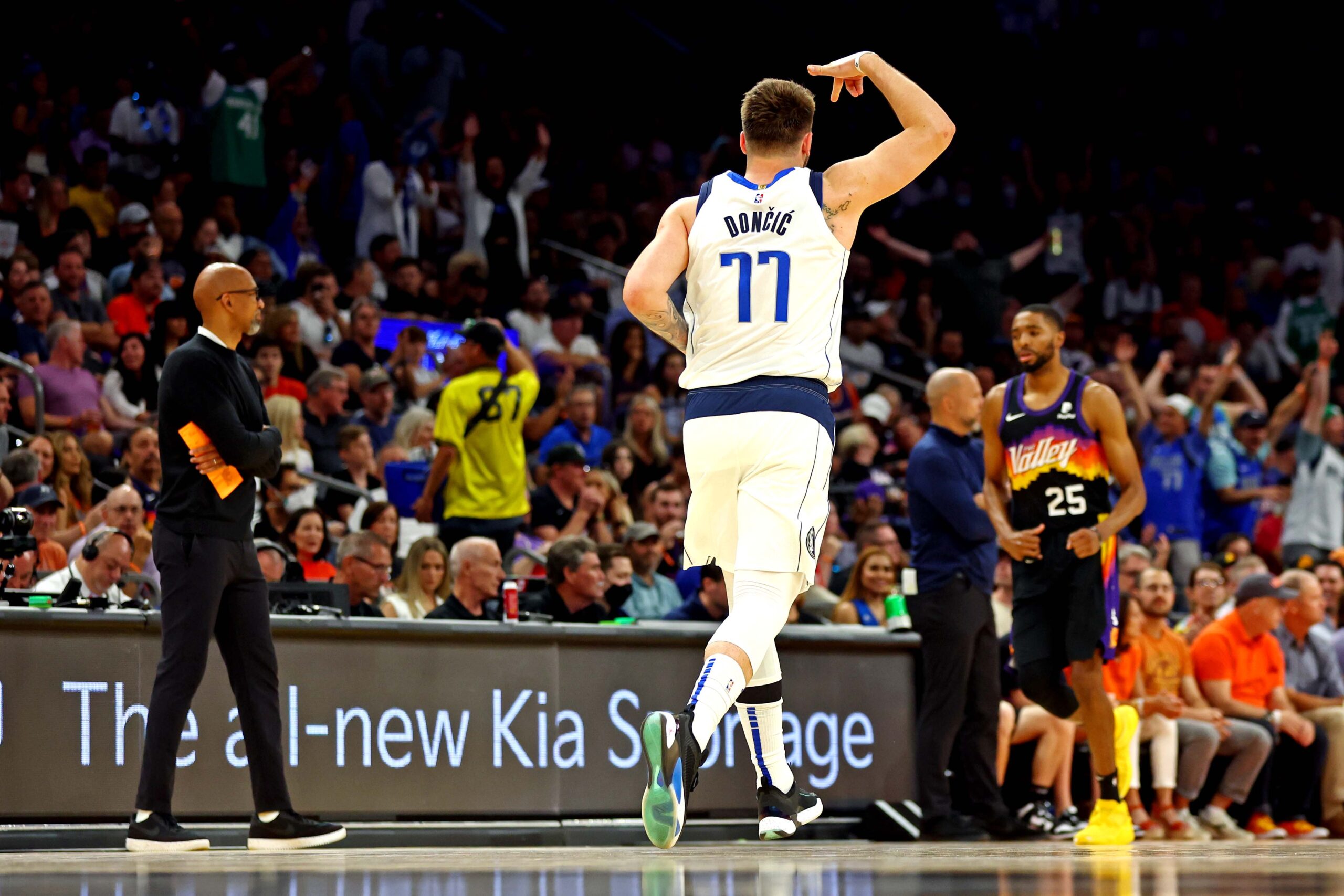 The playoffs are complicated. Each series is its own story and each game is its own chapter encompassing dozens of moments and plot points. But the playoffs can also be simple. Each of these moments, these plot points, falls into one of two buckets: the things we observe and the emotions they inspire in us. That's what we're here to talk about.
what we saw
Let me start with a confession. Throughout these playoffs, I struggled to keep these post-game columns to the assigned word count, which consequently drove my co-writer and editor, Mike, nuts. I couldn't help it. The playoffs are so much fun and there's so much to write about after every game. So many subplots. So many games. So many adjustments.
But last night after the game – really, after the first half, when the game was pretty much over – I was left speechless. Mute.
That's why I'm going to keep this one short. Inspired by those "Suns in four" chants, here's my ode to the 2021-22 Dallas Mavericks, exclusively in four-word phrases:
A bunch of brothers. Silence the skeptics all year round. Go against all odds. Against the best team. Against their collapsing suns. Against 20 ESPN pundits. Against the former Clippers ghosts.
Game Seven road game. Prodigy has grown. Silence the local crowd. A first class ass. Reimbursement of the "Special Luka". A turning backward step. A provocative look that breaks the ankle. Published by Deandre Ayton. Luka 27, Suns 27. Luka is THAT guy. Sure that's not ho.
Jason Kidd can coach. The true god of points. Manipulate margin. Suns resolved after 2. Defense was unreal. Busted all season. Dorian and Reggie, dogs. Render CP3 old. Devin Booker had been framed.
A showcase with three ball carriers. Five killers of great men. Masters of iso-ball. Forget the big guy. A cold-blooded Spencer showed up. Jalen proved Carlisle wrong. Intimidating length with force. Twenty-three points per game. In the fucking playoffs. Saved the season twice. He will be paid.
They really did that. Tears in the valley. Theo in four killed on the road. Dirk and Luka kiss.
Steph and Draymond next. Western Conference Finals, finally.
No fear, no limits. —Iztok Franko
What did it look like
Every conversation about the Mavericks, one way or another, revolves around Luka Doncic. When he plays, that's how hard he plays. When it doesn't, that's why not. And when the organization makes a move, the analysis always begins with how it affects Luka. For the better part of four years – at least, in the three since Dirk Nowitzki retired – every win and every loss, step forward or back, achievement or mistake has been contextualized around him, above all. It's hard to imagine that changing while he's wearing a Dallas jersey.
We do this because of nights like Sunday. Because when your hometown franchise is lucky enough to employ a player like Doncic, a generational, paradigm-shifting talent, you see the unlikely become academic.
The Dallas Mavericks are not expected to make it to the Western Conference Finals. It's less about them than the team they just sent. History tells us the Suns should have won that series, if not the championship. As Sunday approached, the math did too. Let's not forget that Phoenix had an 82% chance of winning this series after Game 5. Today, the NBA teams with the best regular season record had won 76% of their Game 7. Excluding the bubble NBA 2020 home teams had won 77.6% of Game 7 in league history.
And absolutely none of that mattered because Luka Doncic decided it shouldn't. He is the odds eraser, the great equalizer in the NBA. It's bigger than him, of course: Spencer Dinwiddie was spectacular, and an unprecedented Suns slump made some of that heroism redundant. As entertaining as he was, Doncic didn't need to tie Phoenix's first-half goal tally, in and of itself, to put that out of reach.
Still, it's hard to get rid of the idea that even if Phoenix had shown up, it wouldn't have mattered. Not when Doncic, the most prolific goalscorer in Game 7 in league history, takes another step to become the game's dominant player. Not when, at 23, he continues to fulfill the prophecy that has floated around him since his teenage years in Spain. It's changing basketball, and it's changing Dallas.
Which makes it fitting that this team is ahead of schedule, sort of four more wins after contesting their first championship since 2011 when they haven't won their first playoff since a little over two weeks. It looks like it should take longer, and maybe it will. But Doncic has already reminded us once in this series: change waits for no one. And he looks very impatient. —Mike Piellucci
Authors
Iztok Franko covers the Mavericks for StrongSide. He's an analyst who uncovers hidden stories in NBA data and basketball…
Mike Piellucci
See profile


Mike Piellucci is Magazine Dsports editor of . He is a former employee of Athleticism and VICEand his freelancer…