White Collar Fight Club is a unique experience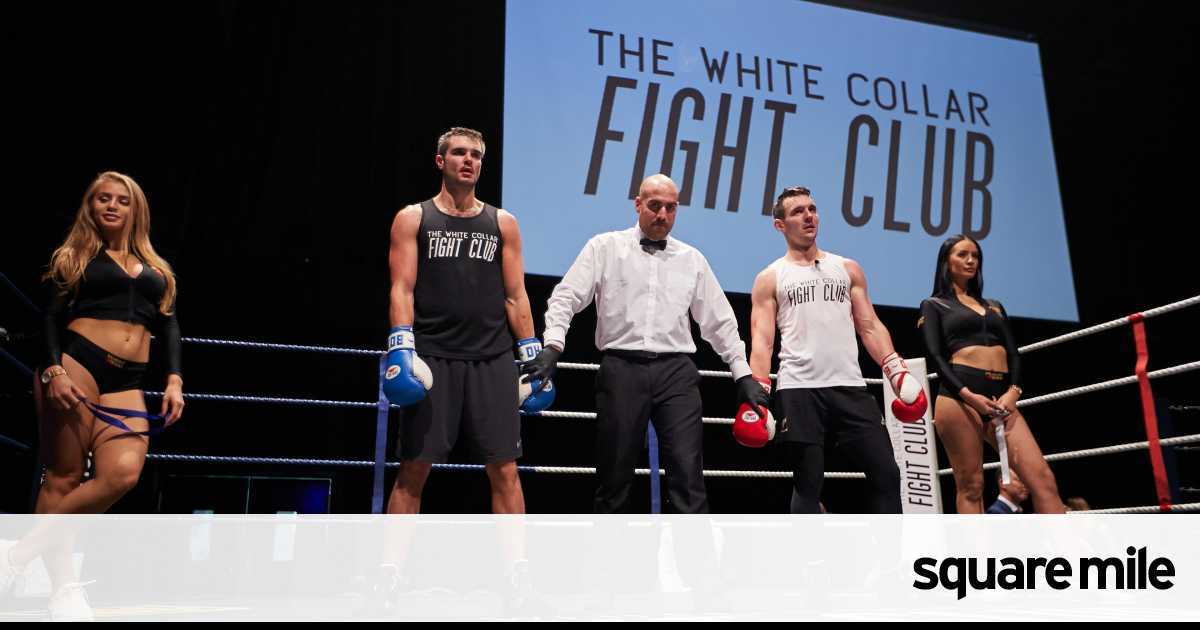 Last year was brutal on our bodies and minds. Sufficient. This summer, it's time to fight back – literally.
Square Mile has partnered with The White Collar Fight Cluba brilliant organization that puts on white collar boxing shows with all proceeds going to the mental health charity Mind. And we want you to join us in the ring.
Unlike most white-collar organizations, no fees are charged to fighters. All WCFC asks is that you raise or donate a minimum of £50 for Mind through its JustGiving page and sell a minimum of 20 tickets to friends, family and colleagues.
In exchange, you'll receive an eight-week battle camp to get you in the best shape of your life. This includes two weekly sparring sessions and a weekly strength and conditioning workout to shed those extra pounds.
Next, head to Troxy Nightclub where you'll face off against one of your fellow fighters in front of a large crowd. WCFC will ensure you are paired with someone of a similar level to ensure maximum safety and no blowouts.
Still not sure? We spoke to former contestant Stephen Lynch about his experience with Fight Club.
What was your motivation to join the White Collar Fight Club?
I loved the challenge. I love to train, play sports. It turned me on and scared me in a good way.
I knew when I signed up that it would put positive pressure on me to pull myself together. Train right, eat right, etc.
Positive pressure is a great expression. Is this the mentality that you maintained throughout the experience?
Yes absolutely. I had to be disciplined. I had to get up early to get to Victoria. Up at ridiculous hours, I watch Rocky's videos on my phone on the subway! That positive pressure stayed with me throughout.
I'm really, really positive about it. He brought such good energy. I loved the camaraderie of training and fighting with our group. I loved talking about it to people, to my colleagues and friends. The excitement grew as we got closer to fight night. It was a magical experience, really.
This camaraderie – is it really a group mentality? Everyone together?
That's absolutely correct. There were a few characters in my group, we had about the same weight. We were aware that we could be paired up, which created an interesting dynamic. We encouraged each other, we encouraged each other, but we also looked at each other.
There was a lot of fun, jokes. I made friends with whom I am still in contact, I even met a partner! Very good things happened from the experience. I had that confidence, that assurance that spilled over into other areas of life.
What lifestyle changes have you made?
I completely gave up alcohol for the entire two-month training camp. This caused me to give up alcohol completely – I haven't had a proper drink for a few years now.
I researched my food intake, improved my diet. It was a very holistic experience: improving one aspect of my life, my fitness, had a ripple effect on other areas.
Presumably, combat makes sticking to those plans a lot easier?
You are absolutely right. This fear, basically. This fear of having this event, fight night, with friends and family, colleagues, coming to watch. This forces the fighters to train very hard. This positive pressure facilitates early awakening, runs, sprints, shadowboxing.
We also organized training sessions on the side. It's almost like a Damocles sword hanging over the fight. Being Decisively Engaged: I have a fight coming up, everyone knows I'm doing it, and the only way out of this scenario is to face it and fight – literally in our case.
How was the tour of the ring?
To be honest, I was anxious during the ring walk. There's no way to replicate that feeling. Sparring is great but sparring doesn't come close.
It's almost like a penalty shootout: you can take the practice penalties in training, but it's not the same as taking a penalty in a World Cup final. That's what I found with the ring walk.
My trainer said, 'well, tunnel vision' as my music started playing. I could see my people, cheering, waving signs and everything. I found it to be a challenge. It was something new, a little disorienting.
And the fight itself?
I carried that nervous energy into the ring for the first round. So it's real. I walk between the ropes. The referee is there. My opponent is there. We look into each other's eyes. We are here for business. We are not here to lose.
I started quickly. That's always been my game plan: use my fitness, land the jab, frustrate it. Looking back, I was probably burning off a lot of nervous energy, beating too jerky.
The rest of the fight was a bit blurry to be honest. The third lap in particular was a bit difficult! My coach told me to put it on the opponent – and maybe I took that a little too literally!
How did you feel hearing the draw verdict?
Yeah, that was disappointing. I raised my hand, but so did my opponent! It was a strange moment. I took it on the chin to use a bad pun. It wasn't just the result of the fight. That was the whole experience.
How was the evening afterwards?
Oh, brilliant. Get back to drinking, have a few drinks and dance. My fight was in November. It was a nice way to end the year.
And presumably fundraising for Mind was an added bonus…
Yes, fundraising was a big part of it. Things like this have a huge impact. There are loads of people who have managed to turn their lives around and find themselves in stuff like boxing. Give yourself to something that is very difficult, very stimulating.
There is pain involved, mental and physical. But after the fight, the challenge, there can be real moments of calm and serenity and contentment. There's something to be said for people who proactively seek out these opportunities. It's great for mental health.